**AUTUMN UPDATE**
Tokens for tennis lights are available at the MACE shop in Killurin, come
ABOUT US:-
Welcome to Glynn Barntown Tennis Club, a fun-filled fitness facility in the heart of the community. Our amenities include two all-weather Savannah courts located at the Glynn Barntown GAA complex in Killurin. If you are considering playing tennis why not have a chat with us. We have players at all levels and have many members who never held a racquet prior to joining!
Contact: Jane O' Shea, Chairperson on 087 2742290
What we offer
• Attractive annual membership rates – reduced for 2018
(€100 single, €160 couple and €40 youths up to Leaving Cert. age)
• Friendly, supportive atmosphere
• Regular competitions, various levels
• Easter and Summer camps for kids
• Opportunity to get fit and socialise in the outdoors
• Lessons can be arranged on request
• New members are always welcome and support will be offered.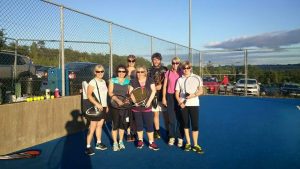 2018 Committee
Chairperson-Jane O'Shea 087 2742290
Secretary-Ann Woodbyrne 086 3009794
Treasurer-Aisling Ferriter 086 0835352
PRO- Edel Glowatz 087 6814025
Catherine McCarthy 087 7487114
Siobhan Whelan 087 6384515
Any queries – contact any of the members above.
New committee members are always welcome.
Follow us on facebook for updates- like and share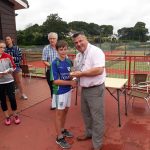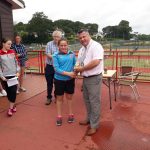 Congratulations to Connor Mackey winner of the u14 boys Parks Tennis final and also to Jodie Keeling runner up in the u14 girls Parks Tennis final both in the Wexford Tennis and Boat Club July 2018.
---