ABOUT US:-
Welcome to Glynn Barntown Tennis Club, a fun-filled fitness facility in the heart of the community. Our amenities include two all-weather Savannah courts located at the Glynn Barntown GAA complex in Killurin. If you are considering playing tennis why not have a chat with us. We are currently actively seeking new committee members. Contact John 0872807679 for more information.
What we offer
• Attractive annual membership rates –
(€100 single, €160 couple and €40 youths up to Leaving Cert. age)
• Friendly, supportive atmosphere
• Regular competitions, various levels
• Easter and Summer camps for kids
• Opportunity to get fit and socialise in the outdoors
• Lessons can be arranged on request
• New members are always welcome and support will be offered.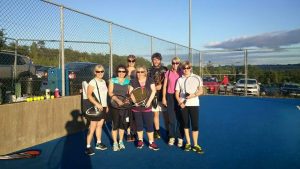 Follow us on facebook for updates- like and share
---