***PLEASE READ***
The club is gearing up for a one off giant fundraiser which will take place over the Autumn and Winter months and will see ticket sellers drive the length and breadth of the county to sell €20 tickets yielding a top prize of a car and many other great prizes. This is a once in a generation, large scale project which requires the support of EVERYONE in the club. We have been amazed by the amount of volunteers who have already come forward but we are still recruiting. The more sellers we have the better to share the workload. Now is the perfect opportunity to help develop for the future. Anyone interested in being part of this project (which will fund the development of the club grounds including drainage of the top pitch and provision of flood lighting to same) please contact John on 0872807679 or Danny 0861089553. Please make the effort and help make a difference.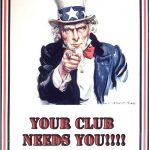 Glynn Barntown Coiste na nÓg present
"Guess the Score"
for the Wexford v Galway Senior hurling match Saturday June to 2nd.
€2 per guess. Prize – €200 for correct score or nearest to correct score. If more than one winner prize will be shared equally. All entries must be received by 10am Saturday June 2nd. All monies raised will be used to upgrade facilities and equipment. Managers will be distributing cards to all underage players over the coming days. Cards will also be on sale at the Michael Laffan Memorial Tournament this Sat May 19th and we would appreciate your support.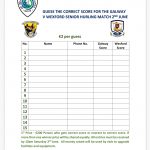 Congratulations to clubman Noel McCormack who we were delighted to put forward as "Glynn Barntown Clubperson of the Year 2018" at the recent district awards. This tribute was in recognition of his hard work and dedication over a long number of years with adult and underage squads aswell as years at the helm of the club's u6 hurling, football and camogie academy. His contribution to the development of club teams has been matched by his work off the field on various committees and in fundraising events. Noel is pictured receiving his award from Tossy Ryan.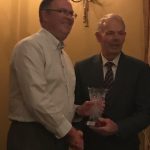 Both of our u9 teams played 3 great games each today in their blitz hosted by Clonard GAA Club. Well done lads.
Well done to our minor camogie team who gave the 2018 championship a great kick start with an impressive win over Oulart The Ballagh this evening winning 7-13 to 1-4.
This piece was recently printed on "GAA Then and Now" and a follower sent it on to us.. It relates the epic Wexford football championship of 1889 where Barntown and Glynn-as we were then known-played a role in an unusual culmination to the championship- it's sure to be of interest to anyone who enjoys a bit of club history.