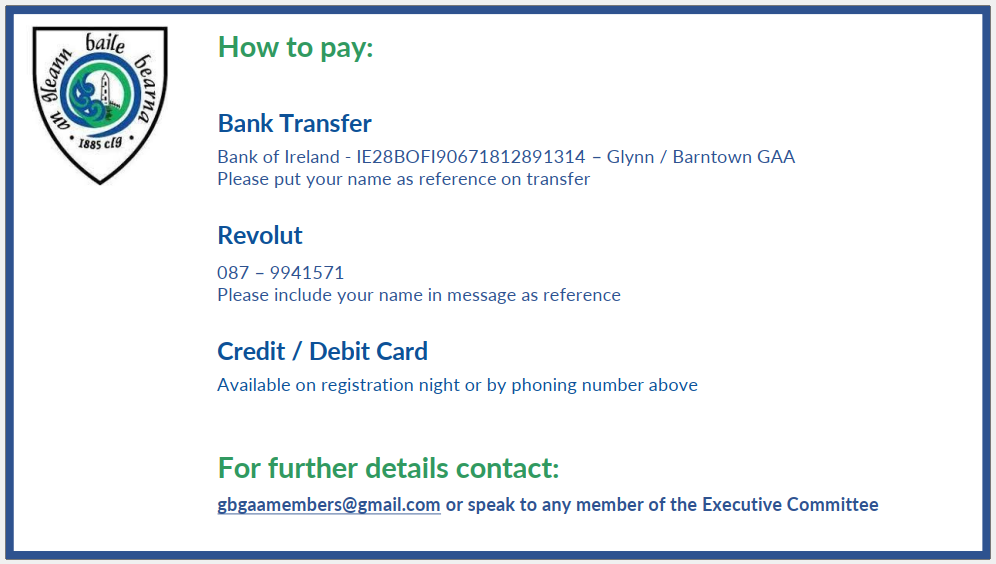 Adult Camogie Players can also pay via their Foireann account (Installment option available)
All persons who work with children or vulnerable persons must be Garda Vetted
The application process for Garda vetting for GAA, Camogie and Ladies Football has changed and must now be started in your Foireann account.
Prices for anybody who is not a member of Glynn/Barntown GAA Club.
Adults €100
Couple €160
Family €175
Child €30
2 children in one family €50
3 children in one family €60
4th and consecutive children free.
Summer League Entry fee €20.
For enquiries:
email gbgaamembers@gmail.com
or message Instagram @glynnbarntowntennisclub1
Camogie Club Bingo starts at the earlier time of 7.30pm from tomorrow night 6th March to facilitate children going back to school.
Remember to send your videos into Roisin before Sunday.
New players welcomed contact 0871253637 for more information.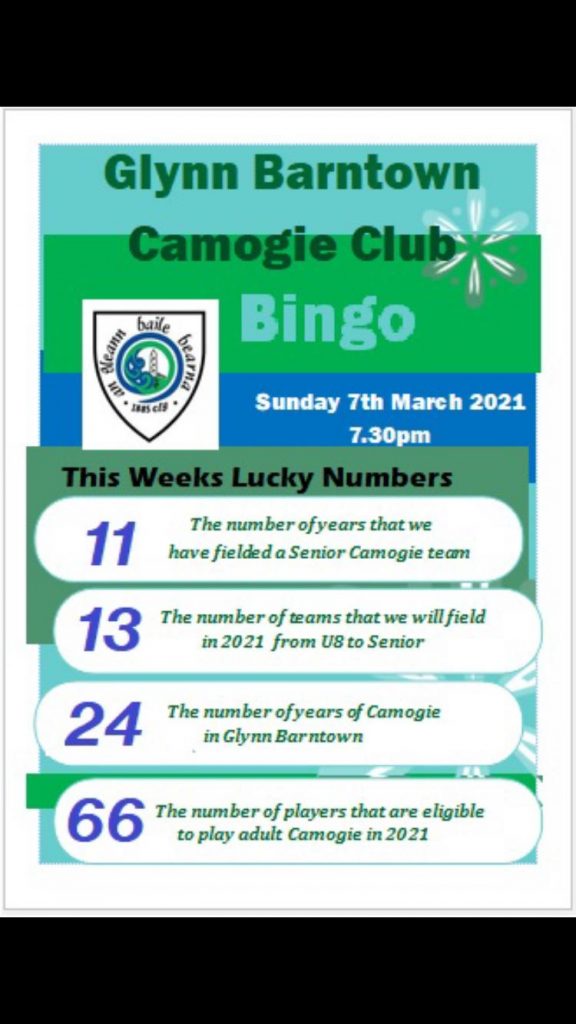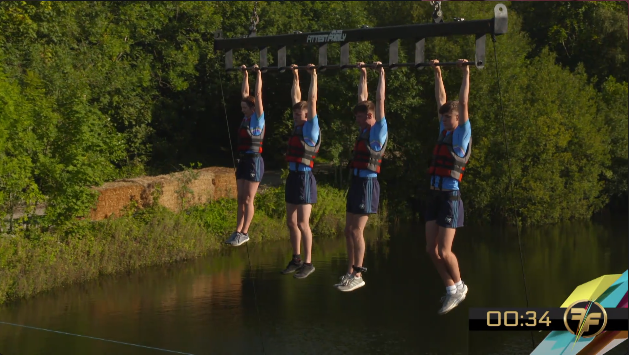 To celebrate the Mahoneys getting to the final of Ireland's Fittest Family we're launching a 'Mahoney Mayhem' art competition. We want all children in the parish to send in pictures and posters wishing Joanne and the lads the very best of luck. Send entries through our Facebook messenger and all entries will be posted on our social media. Fantastic prizes to be won and winners will be announced Saturday at 6pm!
Thanks to Emma Kiely for drawing this template for our younger players to colour in for our art competition. Best of Luck!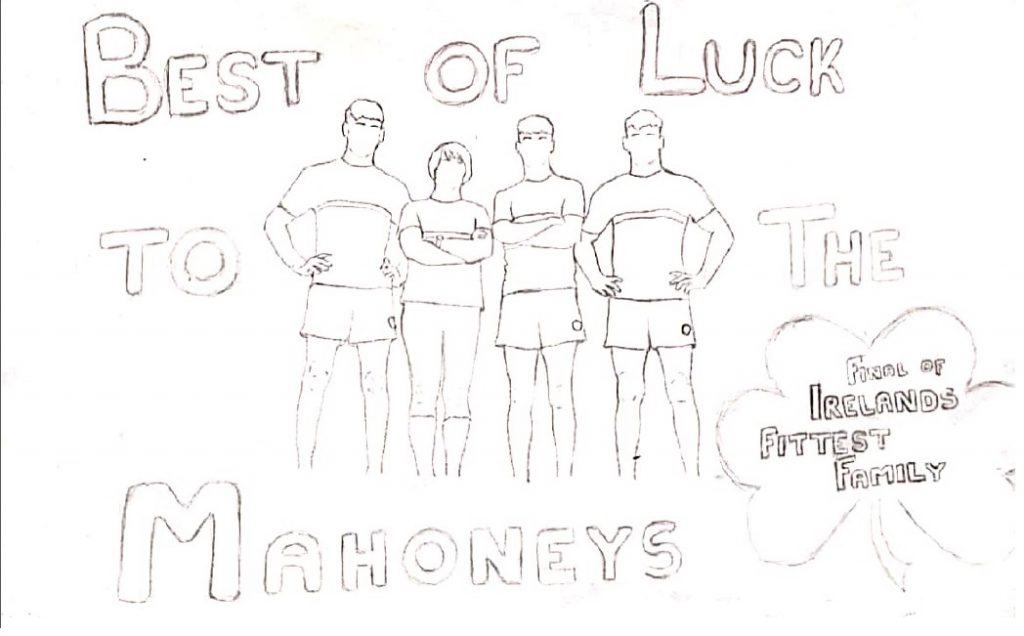 Starting this Sunday @ 8pm with over €1,300 in CASH prizes to be won!!
Tune into Glynn Barntown Camogie Club Bingo at 8pm for a bit of craic and a chance to win.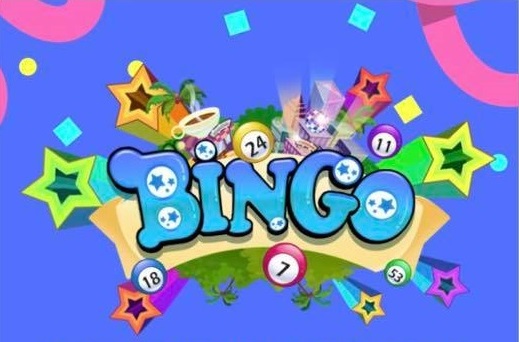 How to Play:
1. Whatsapp or text your name, email address and the number of books you wish to buy to Roisin on 087-1253637 or email your order to glynnbarntownbingo@gmail.com
2. Revolut €8 per book to Roisin on 087-1253637
You will be added to a Whatsapp group and sent a link to play along via YouTube on Sunday evening.
Winners will be paid by Revolut within 24 hours.
If you have any difficulty paying by Revolut or printing books, contact any of the below for help.
For more information contact Roisin 087-1253637, Georgina 087-6826453 or Angela 087-7750710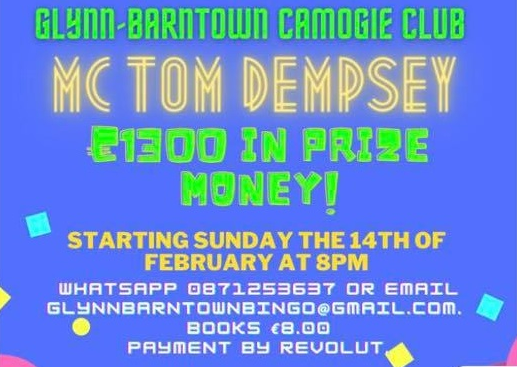 Due to the current restrictions Glynn/Barntown GAA executive have decoded to defer the Senior Club AGM, to be reviewed in January. The Club Executive will review early in January to discuss how to proceed for the year of 2021. If you have any queries please call
John Cooney 0872807679 or
James White 086 8270314
Also The club are looking for people that have an interest in being involved with the senior football management set up for 2021. If you have an interest please contact John Cooney 0872807679 or Robert Tierney 0877798148 before this Saturday evening 28th November or you can send an email to Secretary.glynnbarntown.wexford@gaa.ie
TOGETHER WE WILL SUCCEED
Glynn Barntown GAA club has a list of volunteers willing to help vulnerable parishioners at this time for grocery/medical collections etc.
Please contact –
John Cooney 087-2807679
Michael Doyle 086-4099057
Georgina Roche 087-6826453
Méabh Cooney 087-9300881
Garry Laffan 087-7878417
Padraig Donnelly 087-3409197
James White 086-8270314
Tony Butler 087- 9197865
Shane Carley 086-9074650
Paschal Carley 087-7783112
Declan Dennehy 087-9906054
Róisín Cooney 087-6683616
Danny O'Brien 0861089553
John Barron 087-2402281
Shane Wilde 086-7304699
Richard McNamara 087 6915650
Conor Kavanagh 086 3852746
Patrick Nolan 086-8392068
Daire Barron 087-6309409
Jane O Shea 087-2742290
Aisling Roche 086 4034597
Alan Roche 087 6217962
Sharon Whitty 087 6395652
All volunteers are aware of the hygiene guidelines advised and will practise them in the event of a call out.