Archive for the 'Coaching' Category
All persons who work with children or vulnerable persons must be Garda Vetted
The application process for Garda vetting for GAA, Camogie and Ladies Football has changed and must now be started in your Foireann account.
Monday 16th – Thursday 19th August 2021 for primary school children
Registration:

Step 1: Registration link to be filled out for each child https://forms.gle/GpMxQk5YJ4ZrwVY8A

Step 2: Payment by Revolut
Details:Noel Moran 087 2715850
Cost: €40 per child, €75 for 2, €100 for 3, €125 for 4

Steps 1 & 2 to be completed to confirm space on Summer Camp. Limited spaces.

What you will need to bring:
Hurl and helmet
Gum shield
Packed lunch
Rain jacket
Change of clothes if deemed necessary
Sanitiser
How much does the camp cost?
1 child – €40
2 children – €75
3 children – €100
4 children – €125
Contact Barry Leacy GPO for more info 087-0911411
GAA Covid Guidelines will apply. Remember to fill out Health Questionnaire prior to first day attending.
Congratulations to clubman Noel McCormack who we were delighted to put forward as "Glynn Barntown Clubperson of the Year 2018" at the recent district awards. This tribute was in recognition of his hard work and dedication over a long number of years with adult and underage squads aswell as years at the helm of the club's u6 hurling, football and camogie academy. His contribution to the development of club teams has been matched by his work off the field on various committees and in fundraising events. Noel is pictured receiving his award from Tossy Ryan.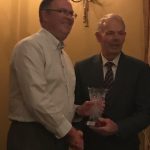 Positive sidelines is an initiative from Wexford County Coiste na nÓg. Glynn Barntown GAA Club fully supports this initiative and we ask that all mentors, parents and indeed supporters buy into the ethos of the project to make the playing experience for our children as positive and enjoyable as possible.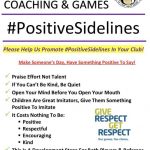 Glynn-Barntown Easter Camp will take place from Tues 27th-Thurs 29th of March from 10am-2pm. Cost of the camp is €35 per child. €50 for 2 children and €75 for 3 children. A Registration night will take place this Thursday the 22nd of March from 7-8pm in the clubhouse. For more information contact Willie 0872933815 or Bobby 0852702508
Info for anyone in our club that may be interested in becoming a go games referee. You must be over 16 and will only be refereeing Go Games- mainly U11 and some u9! You need to register through the link below!
Go Games Referee Course
Date: Fri, Mar 23, 6:30 PM
https://t.co/GQVHowwdnm
One Club Registration for all boys & girls from 5-18yrs, is next Tuesday 6th March in clubhouse 7-8:30pm. We would really appreciate everyone registering early again this year. Thank you
For membership rates click on the link