Our Annual Easter Raffle was held in Declan's on Thursday evening and was a great success. The club would like to thank all who supported it but a particular word of thanks to Club President Mary Roche and her husband Declan for the tremendous work they put in every year to selling tickets for the raffle and ensuring it's success.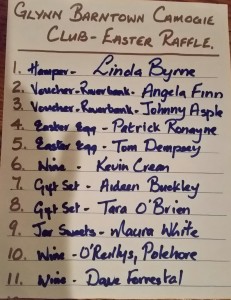 Our Senior hurlers are in action this afternoon Sat Mar 26th v Rathnure in Killurin at 3pm in the ACHL  followed immediately by the Junior hurlers who play Adamstown at 4.30pm also in Killurin.
There will be a camogie club disco for 4th – 6th classes on Tuesday March 29th 8 -10pm in the clubhouse . €3 admission – Pay on the door. Children to be dropped to and collected from the door by an adult please.
There will be a camogie club disco for 1st years and up on Monday March 28th 8.30 – 11pm in the clubhouse. Admission by ticket only. Tickets @ € 5 each on sale on Wed 23rd March in the clubhouse from 7 – 7.30pm. Maximum of 4 tickets per purchase. Any remaining tickets can be booked AFTER 7.30PM on Wed 23rd March on 0877858641
A gentle reminder that club membership is now due as insurance and Co. Board affiliations have now to be paid out from the clubs.
The very best of luck from everyone in the club to Emma Walsh (Polehore) who lines out at centre field for Wexford Senior Camogie team who play Galway tomorrow in New Ross at 2pm. Come along and cheer them on!
Good luck also to Cora Doyle, Emma Sweeney and Aisling Halligan who are in action with the County u16's, also against Kilkenny in Piercestown on Sunday at 1pm.
And finally Roisin Cooney,  Clodagh Jackman and Emma Kiely who are all starting with the County U18's against Galway on Tuesday evening in Dublin.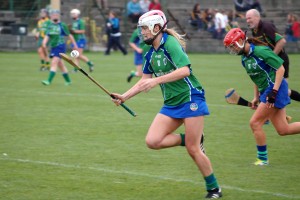 Good luck to our U14 boys who take part in the Féile na nÓg Comoradh na Cásca 1916 qualifying rounds this Sunday, 20th March
This years Coiste na nOg Loch Garman Feile Football and Hurling tournaments will be named Feile Comoradh na Cásca 1916 as part of the Commemorative 1916 centenary year.
Division 1
Group A
Ballinstragh Gls V Glynn/Barntown
Shelmaliers V Naomh Eanna
Venue: Hollymount
Group B
St Martins V Sarsfields
St Annes V Rath/Cushinstown
Venue: Sarsfields
Draw
Round 1 as on list
Round 2 Winners v Winners, Losers v Losers
Round 3 play team you haven't met already
Round 1 at 10.30, Round 2 at 11.10 Round 3 at 11.50 am
Semi Finals 2.00pm               Venue
Winner A V Runner up B      Hollymount
Runner up A V Winner (B)   Hollymount
Final
Tuesday 22/03/2016     Venue: Patricks Park       Final 20 mins aside
Time: 8.15pm (extra time if necessary)
U10's girls camogie and ladies football training start back on Tuesday evenings from March 8th at 7 -8pm.
U8 Camogie and Ladies Football training continues on Saturday morning at 10am. New recruits welcome!
Glynn Barntown Camogie Club disco Monday 28th March for first years and upwards 8.30-11pm.
Admission by ticket only. Tickets(€5) on sale Wed 23rd March 7-7.30pm in clubhouse- any remaining tickets can be booked AFTER 7.30PM on Wed 23rd on 087 7858641.