Club contacts for the Club Gear shop are
Gráinne 086 3277683 and
Julie 087 6487686.
Various sizes of gear in stock!
CLUB GEAR ORDER NIGHT.
We are holding a club gear order night on Tues 6th October 7-8pm in the clubhouse to order the usual items aswell as our new club training top( pictured below). This will be the final gear order of the year. 50% deposits will be required. Prices/sizes/pictures are available on the club website. Please enter through the main clubhouse door downstairs and exit via the balcony door. Masks to be worn and sanitise upon entry please. Please wait in the bar area if all order tables in function room are occupied and observe social distancing guidelines.
NEW TRAINING TOP ( pictured below)
Age 5/6, 7/8,9/10,10/11- €25
Age 13/14 -Adult S- XXL €35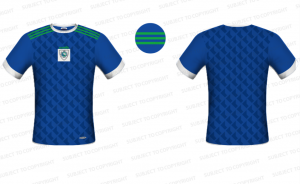 CLUB HALF ZIP ( pictured below)
kids age 5/6, 7/8, 9/10, 10/11 €40;
age 13 €45;
adult S,M,L,XL, XXL €50.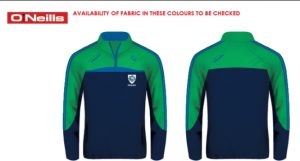 CREW NECK SWEAT TOP
Ages 5/6, 7/8, 9/10, 10/11- €40
Age 13 -€45
Adult S, M , L , XL, XXL- €50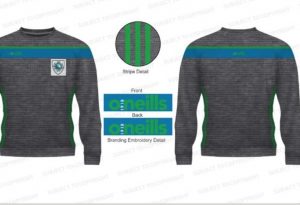 ---
CLUB JERSEY (pictured below)
Age : 0- 4 €30
Age 5/6,7/8, 9/10, 10/11 -€35
13/14, Adult S-XL €40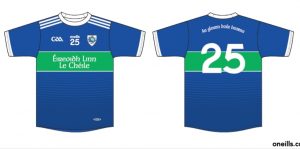 CLUB SHORTS (O'Neills) ( pictured below)
€20 underage (20″- 26″waist)
€22 Adult (28″- 38″)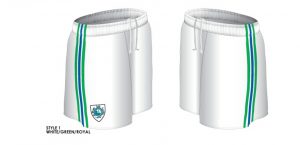 CLUB SOCKS( pictured below)
Short socks
€12 per pair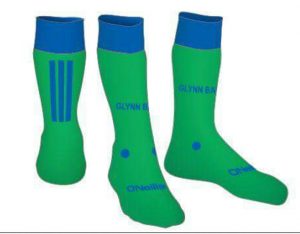 SKORTS
Ages 7-11 €25
Age 13/14-Adult €30
SKINNY TRACK BOTTOMS( pictured below)
Ages 5-11 €40
Age 13 €45
Adult mens size S, M, L, XL XXL €50
Adult ladies size 8, 10, 12, 14, 16 €50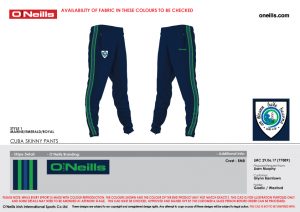 Gear bags( pictured below)
Standard €30
Large €35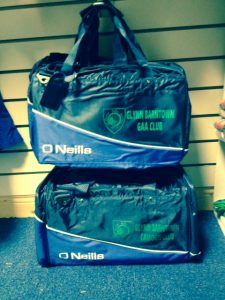 WET GEAR
AGE 13-ADULT XXL
TOPS €35
BOTTOMS €30