Archive for the 'Camogie' Category
Monday 16th – Thursday 19th August 2021 for primary school children
Registration:

Step 1: Registration link to be filled out for each child https://forms.gle/GpMxQk5YJ4ZrwVY8A

Step 2: Payment by Revolut
Details:Noel Moran 087 2715850
Cost: €40 per child, €75 for 2, €100 for 3, €125 for 4

Steps 1 & 2 to be completed to confirm space on Summer Camp. Limited spaces.

What you will need to bring:
Hurl and helmet
Gum shield
Packed lunch
Rain jacket
Change of clothes if deemed necessary
Sanitiser
How much does the camp cost?
1 child – €40
2 children – €75
3 children – €100
4 children – €125
Contact Barry Leacy GPO for more info 087-0911411
GAA Covid Guidelines will apply. Remember to fill out Health Questionnaire prior to first day attending.
Starting this Sunday @ 8pm with over €1,300 in CASH prizes to be won!!
Tune into Glynn Barntown Camogie Club Bingo at 8pm for a bit of craic and a chance to win.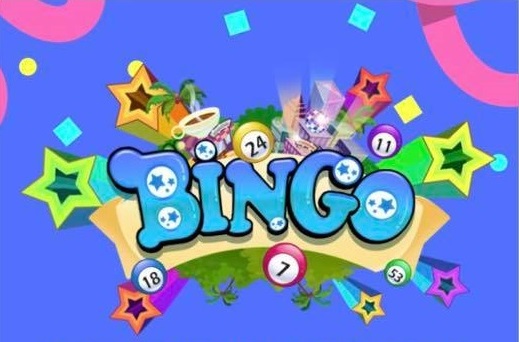 How to Play:
1. Whatsapp or text your name, email address and the number of books you wish to buy to Roisin on 087-1253637 or email your order to glynnbarntownbingo@gmail.com
2. Revolut €8 per book to Roisin on 087-1253637
You will be added to a Whatsapp group and sent a link to play along via YouTube on Sunday evening.
Winners will be paid by Revolut within 24 hours.
If you have any difficulty paying by Revolut or printing books, contact any of the below for help.
For more information contact Roisin 087-1253637, Georgina 087-6826453 or Angela 087-7750710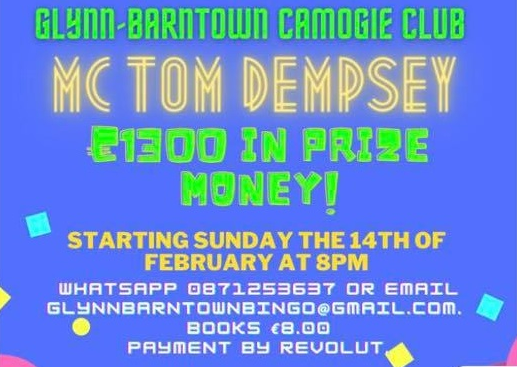 Following on from Elaine's hugely successful Couch to 5K last January, Glynn Barntown Camogie Club invite you to get fit & active for 2019! Elaine will take registrations this Saturday morning Jan 26th 10-11am in the clubhouse & on Monday 28th Jan before the first session. Sessions will be 7-8pm Mon, Wed & Fri. Suitable for all ages from u10 upwards!
Registration is €20 for 1, €30 for 2 members of same family & €40 for 3 members of same family.
Come along and join the fun!!!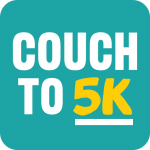 ***PLEASE READ***
The club is gearing up for a one off giant fundraiser which will take place over the Autumn and Winter months and will see ticket sellers drive the length and breadth of the county to sell €20 tickets yielding a top prize of a car and many other great prizes. This is a once in a generation, large scale project which requires the support of EVERYONE in the club. We have been amazed by the amount of volunteers who have already come forward but we are still recruiting. The more sellers we have the better to share the workload. Now is the perfect opportunity to help develop for the future. Anyone interested in being part of this project (which will fund the development of the club grounds including drainage of the top pitch and provision of flood lighting to same) please contact John on 0872807679 or Danny 0861089553. Please make the effort and help make a difference.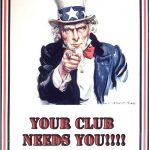 Congratulations to clubman Noel McCormack who we were delighted to put forward as "Glynn Barntown Clubperson of the Year 2018" at the recent district awards. This tribute was in recognition of his hard work and dedication over a long number of years with adult and underage squads aswell as years at the helm of the club's u6 hurling, football and camogie academy. His contribution to the development of club teams has been matched by his work off the field on various committees and in fundraising events. Noel is pictured receiving his award from Tossy Ryan.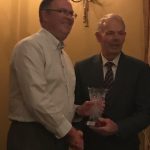 Well done to our minor camogie team who gave the 2018 championship a great kick start with an impressive win over Oulart The Ballagh this evening winning 7-13 to 1-4.
CAMOGIE
Our Senior camogie team were defeated by St Martins in league on Saturday in Piercestown. Hard luck girls.
The refixed Féile camogie tournament took place in Hollymount on Sunday morning and our girls defeated St Ibars, lost out to Kilrush and drew with St Martins in the group stages thus qualifying for a semi final v Cloughbawn. After a hard fought game our girls were defeated by 2 points. Well done to all involved.
Well done to our u10 camogie teams who had their 1st cluster blitz of the year on Sunday morning in Killurin.
Congrats to our Junior camogie team who had a brilliant win over St Annes on Sunday evening away 5-15 to 1-2.
COISTE NA NÓG
Well done to our u9 hurlers who headed off to Pairc Carman to play Faythe Harriers on Saturday morning where they put on a great display of hurling.
Our Féile A football team qualified for a semi final on Sunday having defeated Naomh Eanna and been beaten by Kilanerin. They were unfortunately beaten by Fethard in the semi final.
Our Féile B football team travelled to Tagoat on Sunday where they drew with Kilmore , defeated St Marys of Maudlintown before being beaten by St Marys of Rosslare. Well done to both panels on great performances.
Well done to our minor footballers who beat Castletown on Monday evening in Castletown .
Our u15 hurlers had a great win over Faythe Harriers on Thursday evening.
SENIOR GAA
Our Senior hurlers had an excellent championship opening game on Friday evening resulting in a draw after a real ding dong battle with Oulart The Ballagh in Bellefield. The half time score left us trailing by 1 goal (1-9 to 0-9). After the interval the two sides exchanged scores and near misses to bring the game to its conclusion with the teams matched at 1-18 apiece.
Our scores came from Craig Doyle 0-5, Gary Moore 0-5 (0-4 frees), Mark Fanning 0-4 (65s), Michael O Regan (1-0), Daire Barron (0-2), Rowan White (0-1), Brendan Doyle (0-1)
Well done to our Junior hurlers on their impressive win on Saturday v St Fintans. Final score 3-21 to 0-11- our scores came from- Matt Doyle 0- 9 (6 frees), Matthew Joyce 0-5, JJ Doyle 1- 1, Padraic Weafer 1-0, Cormac Cooney 1-0, Ben O Shea 0-2, Aaron Kehoe 0-2,
Matthew Banville 0-1, Jack Brazzill 0-1.
CONGRATULATIONS
A huge congratulations to Senior anchorman John Leacy and Therese on the happy arrival of their little daughter on Friday. The camogie club are particularly excited and have the registration papers ready.
LADIES FOOTBALL
The U12 Blue ladies football team started their season with a home game against Taghmon. The girls fought a gallant battle , fighting until the bitter end. Unfortunately, despite their best efforts and narrowing the score difference down to only 3 points, Taghmon took the win. Well done girls !
A big thank you to all who supported the ladies football Table Quiz last Saturday night. A great night was had with much head scratching at some of the questions and answers.
Thanks to Joe for doing the questions, to D.J Dave, and Tony for doing the bar.
Also to the following who generously sponsored prizes;
Whitford Hotel, Talbot Hotel, Anita at Atomic Blonde, Killeen's Maxol, The Haven Pharmacy and to all others who brought numerous other items.
TENNIS
Free introductory/refresher tennis evenings will be held 7-8pm, every Wednesday in May starting 9th- All levels welcome, especially new players. Supportive environment to ease your way in. Summer membership Jun-Aug (incl.) €40.
CONGRATULATIONS
Congratulations to all our members celebrating their First Holy Communion this term.
CONDOLENCES
Glynn Barntown GAA Club are greatly saddened to learn of the passing of Dick Pierce. Our deepest condolences go out to his family at this sad time. As a mark of respect the GAA grounds will close today Friday from 6-8pm and tomorrow Saturday from 1.30-3.30pm. Ar dheis Dé go raibh a anam dílis.
The purpose of the Special General Meeting is to discuss and vote on the way club property is held into the future. The GAA are introducing a Corporate Trustee model with the intention to make transactions simpler and quicker and reduce personal exposure to trustees.
There are 3 options available
Option 1. Do noting and to continue to hold club property through personal trustees
Option 2. Introduce a partial change, in that case property is held by a combination of personal trustees and the corporate trustee
Option 3. Elect to have property held only through the corporate trustee.
The Executive Committee of the club favour option 3 as
– individuals are no longer trustees and therefore are not exposed should the club/unit be sued
– currently, when individual trustees resign or die there can be delay and cost associated with transfer of responsibility
– If a personal trustee was to get into financial difficulty, resulting in a judgement being obtained and registered on club property, theis can cause delays and complications in dealing with the property
– any dealings with club property should be streamlined without the need for multiple copies of documents and multiple signatures
and will move a motion at the meeting to adopt it.