Archive for the 'Coiste na nÓg' Category
CAMOGIE
U12 camogie Team "Goliath" played away to Bunclody on Sunday morning in their second last game of the season. In what turned out to be a very competitive game, Bunclody scored a last minute goal to secure the win. This is the first match this season in which team Goliath have been defeated-an impressive record. The last match is against Kilrush, a win here will mean qualification for the County Finals.
Hard luck to our Junior camogie team beaten by Rapparees in Bellefield on Thursday evening.
Hard luck to our own Emma Dempsey and the Wexford u16 camogie team who unfortunately lost out in the All Ireland final on Sunday to Galway. The teams were level at half time but the opposition pulled away in the second half to win on a scoreline of 2-16 to 2-5. Reaching an All Ireland final is an incredible achievement for these very hardworking girls and we're very proud of them all.
20 YEAR ANNIVERSARY
A fantastic day of camogie was enjoyed by all last Saturday as our camogie club celebrated its 20th anniversary with the Leinster inflatable pitch providing the venue for a mini blitz for u6-u12s, obstacle courses, coffee morning, cake sale, ice cream stand while tbe evening entertainment kicked off with a Junior/Senior mini league all leading up to a night of music and memories in the clubhouse bar. A presentation was made to Mary Roche to thank herself and Declan (The Sycamore House) for their 20 years of sponsorship and support.
As part of our 20 year anniversary celebrations the camogie club held two competitions:-The winner of our colouring competition was Sophie Sinnott (u8) and the winner of our design-a-crest competition was Cara Kelly (u12). Both girls received vouchers for the club gear shop as their prizes.
THANK YOU
Our u8 camogie team are thrilled to have been presented with their new gear at our 20 year anniversary celebrations on Saturday- the set of team jerseys and individual socks and shorts were very kindly sponsored by Nevins partnership to whom we extend a huge thank you.
COISTE NA NÓG
Well done to our u14 hurlers who had a very close game on Thursday evening in St Patrick's Park v Shelmaliers but emerged with the win in the end.
Congratulations to our Minor footballers who had a win over Naomh Éanna Gorey on Wednesday evening.
Well done to our club hurlers Josh Carley, Robbie Hillis & Darragh Carley u14 and Tom Butler u15 who played with Wexford on Saturday in Waterford(u14) and Ferns Centre of Excellence (u15).
Barntown NS Rackard League 2016/17 boys teams were recently honoured at a civic reception hosted by the Mayor in acknowledgement of their huge achievement in winning Rackard league A hurling, A football and A rounders in 2017! At the meeting the boys were congratulated and school Principal Louisa O Brien Glynn paid tribute to them and their mentors with a particular mention for clubman Willie Carley Jnr for his hard work and acknowledged Glynn Barntown GAA club for their role in developing these players also and looks forward to continuing the close relationship with the club.
SENIOR GAA
Our Senior hurlers dug deep on Saturday afternoon to put an important two points on the board with a win over Shelmaliers in Bellefield with Michael Doyle the hero of the day snatching two vital goals.
Well done also to our Junior hurlers who defeated Gorey in Oylegate on Sunday evening.
ALL IRELAND TICKETS
A draw for All Ireland tickets took place in the clubhouse on Thursday evening
Hurling ticket draw winners – Conor Kavanagh, Cian Neville, Toss Barron and Michael Doyle. Football ticket draw winners – Pádraig Donnelly, Catherine Feehan, Robbie Dempsey and Michael Laffan. Congratulations!
SAVE THE DATE!!!!
An 80s Rewind Night will be held in the Clubhouse on Saturday September 23rd- dress up and moonwalk back in time to enjoy the iconic 80's featuring some star 80's acts (not quite THE original but definitely unique 😂). Bucks Fizz and Burgers!. Tickets will be on sale soon. Dont miss out!
LADIES FOOTBALL
Unfortunately Glynn/Barntown lost out to a very strong Mogue/O'Rahillys team in the County U16 Division 2 ladies football semi final in Gusserane,
on a score line of 5-3 to 2-3 on Thursday evening.
They conceded two early goals in the first half and were chasing the game from there on.
The opposition set up with a sweeper which proved difficult to break down.
In the second half the girls fought back bravely but it was not to be their night.
Well done to all 24 girls involved who at the end were very disappointed but there will be better days ahead. Thanks to manager Dave and his management team and to all the parents for their support.
CONDOLENCES
Everyone in Glynn Barntown GAA, Coiste, Camogie and Ladies Football Clubs extends their deepest sympathies to the Whelan family, Barntown on the sad passing of their mother and grandmother Mary. Ar dheis Dé go raibh a hanam dílis.
ALL IRELAND CHAMPIONS
A massive well done from all in our GAA, Camogie & Ladies Football clubs to Glynn Barntown Rounders Team on winning their 2nd All Ireland title in a row last Sunday!
Wishing our star u14 camogie goalkeeper Lizzie Walsh the best of luck as she represents Glynn NS, her club & county in Croke Park on Sunday as she lines out with a Wexford camogie selection at half time in the Leinster Senior hurling final. Extremely proud of you Lizzie!
Glynn Barntown player Caitlin Garnett has also been selected from Barntown N.S. to represent her school, club and county in Croke Park at half time in the Leinster Hurling final! How proud are we to have two club u14 camogie girls step out on that hallowed ground on Sunday? But wait …there's more……
….Club u14 hurling star Daragh Murphy has ALSO been chosen by Barntown NS to represent school, club and county at half time on Leinster Hurling final day!
Daragh's Dad Larry was a member of the 1996 All Ireland winning Wexford hurling team and it's exciting to see Daragh following in his dad's famous footsteps. Expect the Davin Stand to erupt when these youngsters take to the field as the three busloads of Glynn Barntown/Wexford supporters cheer their young clubmates on. The icing on the cake is that Daragh has also been given the joint honour of carrying the Bob O Keeffe cup on to the field to its resting place on the pedestal along with a young player from Galway. 💚💙💜💛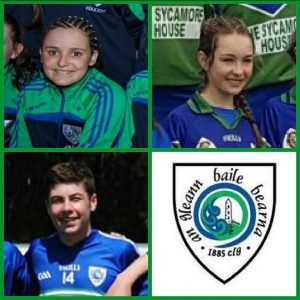 A final thank you to the dedicated mentors who got the teams prepared for Féile na nGael 2017, working so hard for many months to hone the skills of over 70 children and who coordinated the passing of information to parents both game related and non game related for the event. Your efforts were incredible and a particular nod goes to the hurling management who made our club almost unique in entering two teams for the Féile thus ensuring meaningful game time and experience for so many club boys. Well done managers Mickey Laffan, Shane Carley, PJ Gaynor, Pascal Cooney, Georgina Roche and your great backroom teams!!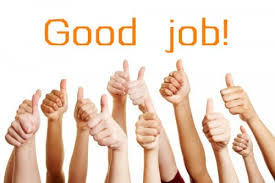 And these are the pretty amazing people who made it all happen! Glynn Barntown GAA and Camogie club thanks our FÉILE COMMITTEE 2017 who have worked tirelessly to bring to fruition the successful club event we witnessed over the last few days.
Anyone who has been involved in an event like this knows that it does not "just happen". Countless meetings, phone calls, emails go into ordering gear, organising food, organising various presentations, garda vetting, organising and allocating the host families, fundraising, organising sponsorship, hours of administration and a hundred other things ,and then as if that's not enough…..you're on duty all weekend "delivering the goods!!!" And they certainly did deliver -in spades! Well done- take a bow (and a very well earned breather!)
Back row l-r Paudie Berry, Fiona Hayes, Annette Hillis & Angela Finn
Front row l-r Róisín Doyle, Sarah Butler, Colette Carley, Suzanne Goff, Aideen Buckley & Pascal Cooney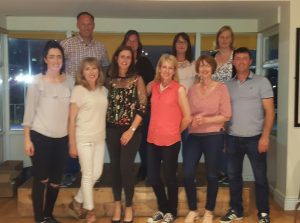 We'd like to express a big thank you to all the host families and all families involved in Féile na nGael 2017 in Glynn Barntown parish. Your support for the club and courtesy towards our visitors has been exceptional and reminds us why we are all involved in the great organisation which is the GAA.
We'd also like to thank the wonderful club people who did not have children involved in Féile but still gave up their free time to bake, make sandwiches, serve food, serve in the bar, wash and clean, flip burgers etc. So much work has gone into making the club "Féile ready" and so many have been involved -THANK YOU!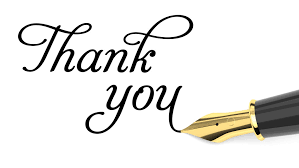 To the Glynn Barntown boys and girls who took part in Féile na nGael 2017 over the weekend we would like to express the great pride you have instilled in your club. You carried yourselves with great dignity with the perfect measure of good fun and we salute the excellent ambassadors you have been for our parish. We hope you have made great friends and will cherish the memories of this weekend.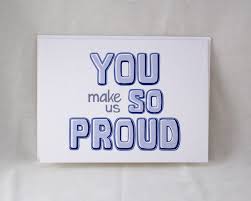 After months of hard work, planning, anticipation and preparation the Féile weekend has swept by in a blaze of energy, games, excitement, companionship, appreciation and cooperation. Our three visiting clubs Éire Óg, Annacarty Co. Tipperary, St Fechins, Termonfeckin Co. Louth & Na Piarsaigh Co. Westmeath slotted in like old friends and despite being pitted against each other in our group games, all clubs based in Killurin followed each others progress through the Féile na nGael 2017 competition with interest and good wishes. We thank the three visiting clubs for their company and courtesy over the weekend and wish them safe journeys back to their respective counties, safe in the knowledge that we have all been responsible for creating a weekend of wonderful memories for the 140 odd children who visited Glynn Barntown parish. We also wish all other clubs we met along the way on the field of play well for the remainder of the playing season and thank the Bunclody and St Martins Clubs who hosted group games for our B hurling team and camogie team on Friday evening. A massive thank you must go to Wexford Co Board and the overall Féile na nGael committee for their incredible orchestration of this huge event in Wexford, Carlow and Kilkenny. I think its fair to say that the GAA has put itself forward on a huge stage over this weekend and has painted itself in the annual glory that is Féile .