Archive for the 'Fundraisers' Category
***PLEASE READ***
The club is gearing up for a one off giant fundraiser which will take place over the Autumn and Winter months and will see ticket sellers drive the length and breadth of the county to sell €20 tickets yielding a top prize of a car and many other great prizes. This is a once in a generation, large scale project which requires the support of EVERYONE in the club. We have been amazed by the amount of volunteers who have already come forward but we are still recruiting. The more sellers we have the better to share the workload. Now is the perfect opportunity to help develop for the future. Anyone interested in being part of this project (which will fund the development of the club grounds including drainage of the top pitch and provision of flood lighting to same) please contact John on 0872807679 or Danny 0861089553. Please make the effort and help make a difference.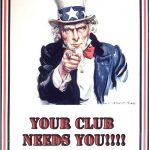 Glynn Barntown Coiste na nÓg present
"Guess the Score"
for the Wexford v Galway Senior hurling match Saturday June to 2nd.
€2 per guess. Prize – €200 for correct score or nearest to correct score. If more than one winner prize will be shared equally. All entries must be received by 10am Saturday June 2nd. All monies raised will be used to upgrade facilities and equipment. Managers will be distributing cards to all underage players over the coming days. Cards will also be on sale at the Michael Laffan Memorial Tournament this Sat May 19th and we would appreciate your support.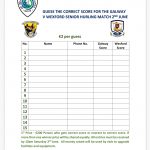 CAMOGIE CLUB EASTER RAFFLE RESULTS 2018
1st Prize -Giant Easter Hamper-Cathal Rowe
2nd Prize – Riverside Park Meal Voucher-Chloe Casey
3rd Prize -Beauty by Grace Voucher-Jacinta Buckley
4th Prize-Anne Keville Hair Voucher-Barbara Ryan
5th Prize-Honey Blonde Voucher-Imelda Fanning
6th Prize-Saucy Butcher Voucher-MJ Walsh
7th Prize- Butlers Easter Egg- Eddie Reville
8th Prize-Bottle of Wine-John Goff
9th Prize -Mini Hamper-Maura White
Well done all, thanks for your support and a huge thank you to Mary and Declan Roche of the Sycamore House!💚💙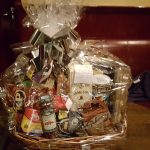 GAA NATIONAL CLUB DRAW 2018
The GAA National Club Draw has raised over €3.6m for clubs in the 2016/2017 National Club Draw. The sole purpose of the Draw is to assist in Club's drive to raise much needed funds to aid in the development and the promotion of our games.
All tickets have now been distributed to the County Liaison Officers (CLO). Please co-ordinate with your CLO to arrange collection. Attached are this year's CLO contact details.
The benefits of taking part:
· The Draw is an opportunity for your club to raise up to €20,000.
· Your club will retain ALL the proceeds raised through the sale of tickets.
· All prizes are provided by Ard Chomhairle.
CLUB SPECIFIC DRAW
This is a draw where the Club itself can win great prizes. The details are as follows:
· A draw will be done for all Counties whereby 3 Clubs will receive a prize of €5,000.
· A draw will be done per County whereby 1 Club in each County will receive a prize of €1,000.
· The Club with the highest ticket sales in each Province will receive a prize of €1,000.
How do Club's qualify for the club specific draw? `
· Sell a minimum of 200 tickets
· Record all sold tickets on the online ticket recording system.www.gaa.ie/ncdticketsystem
· Account for all funds raised in the club's accounts – i.e. amount shown in club income should correspond with the total amount of ticket sales recorded.
· Finally, all National Club Draw terms and conditions must be adhered to.
IMPORTANT DATES
· Last orders for additional tickets ahead of the Christmas Holidays should be submitted by Friday 15th December 2017.
· Additional tickets can be requested up until Thursday 1st February 2018.
· Tickets (sold/unsold) must be returned to YOUR County Liaison Officer by Thursday 8th February 2018. Contact details for your respective NCD County Liaison Officer(s) are attached. Tickets should not be sent directly to Croke Park.
IMPORTANT INFORMATION
· All sold tickets must be registered on the online ticket recording system before they are returned to your NCD County Liaison Officer. Please note that tickets not entered on the online system will not be entered in the Draw. You can confirm your club's login credentials from your County Liaison Officer or by contacting nationalclubdraw@gaa.ie orncdsupport@gaa.ie
· Full information, terms and conditions, in relation to the Draw including the link to the online ticket recording system and the relevant support contact details can be found at www.gaa.ie/nationclubdraw
· Please remember that clubs are not permitted to purchase tickets in their own club name or to give away free tickets for any purposes.
Tickets are selling fast for our '80s night on Saturday September 23rd in the clubhouse. With "LIVE 80'S LIP SYNCH ACTS" on the night it promises to be a great night's entertainment. So brush up on your breakdancing and get your ticket @ €10 (includes Bucks Fizz and a Burger!) Contact 087 2956218 to book your tickets! Dress up optional.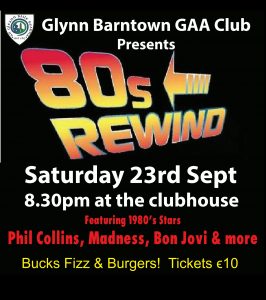 CAMOGIE
U12 camogie Team "Goliath" played away to Bunclody on Sunday morning in their second last game of the season. In what turned out to be a very competitive game, Bunclody scored a last minute goal to secure the win. This is the first match this season in which team Goliath have been defeated-an impressive record. The last match is against Kilrush, a win here will mean qualification for the County Finals.
Hard luck to our Junior camogie team beaten by Rapparees in Bellefield on Thursday evening.
Hard luck to our own Emma Dempsey and the Wexford u16 camogie team who unfortunately lost out in the All Ireland final on Sunday to Galway. The teams were level at half time but the opposition pulled away in the second half to win on a scoreline of 2-16 to 2-5. Reaching an All Ireland final is an incredible achievement for these very hardworking girls and we're very proud of them all.
20 YEAR ANNIVERSARY
A fantastic day of camogie was enjoyed by all last Saturday as our camogie club celebrated its 20th anniversary with the Leinster inflatable pitch providing the venue for a mini blitz for u6-u12s, obstacle courses, coffee morning, cake sale, ice cream stand while tbe evening entertainment kicked off with a Junior/Senior mini league all leading up to a night of music and memories in the clubhouse bar. A presentation was made to Mary Roche to thank herself and Declan (The Sycamore House) for their 20 years of sponsorship and support.
As part of our 20 year anniversary celebrations the camogie club held two competitions:-The winner of our colouring competition was Sophie Sinnott (u8) and the winner of our design-a-crest competition was Cara Kelly (u12). Both girls received vouchers for the club gear shop as their prizes.
THANK YOU
Our u8 camogie team are thrilled to have been presented with their new gear at our 20 year anniversary celebrations on Saturday- the set of team jerseys and individual socks and shorts were very kindly sponsored by Nevins partnership to whom we extend a huge thank you.
COISTE NA NÓG
Well done to our u14 hurlers who had a very close game on Thursday evening in St Patrick's Park v Shelmaliers but emerged with the win in the end.
Congratulations to our Minor footballers who had a win over Naomh Éanna Gorey on Wednesday evening.
Well done to our club hurlers Josh Carley, Robbie Hillis & Darragh Carley u14 and Tom Butler u15 who played with Wexford on Saturday in Waterford(u14) and Ferns Centre of Excellence (u15).
Barntown NS Rackard League 2016/17 boys teams were recently honoured at a civic reception hosted by the Mayor in acknowledgement of their huge achievement in winning Rackard league A hurling, A football and A rounders in 2017! At the meeting the boys were congratulated and school Principal Louisa O Brien Glynn paid tribute to them and their mentors with a particular mention for clubman Willie Carley Jnr for his hard work and acknowledged Glynn Barntown GAA club for their role in developing these players also and looks forward to continuing the close relationship with the club.
SENIOR GAA
Our Senior hurlers dug deep on Saturday afternoon to put an important two points on the board with a win over Shelmaliers in Bellefield with Michael Doyle the hero of the day snatching two vital goals.
Well done also to our Junior hurlers who defeated Gorey in Oylegate on Sunday evening.
ALL IRELAND TICKETS
A draw for All Ireland tickets took place in the clubhouse on Thursday evening
Hurling ticket draw winners – Conor Kavanagh, Cian Neville, Toss Barron and Michael Doyle. Football ticket draw winners – Pádraig Donnelly, Catherine Feehan, Robbie Dempsey and Michael Laffan. Congratulations!
SAVE THE DATE!!!!
An 80s Rewind Night will be held in the Clubhouse on Saturday September 23rd- dress up and moonwalk back in time to enjoy the iconic 80's featuring some star 80's acts (not quite THE original but definitely unique 😂). Bucks Fizz and Burgers!. Tickets will be on sale soon. Dont miss out!
LADIES FOOTBALL
Unfortunately Glynn/Barntown lost out to a very strong Mogue/O'Rahillys team in the County U16 Division 2 ladies football semi final in Gusserane,
on a score line of 5-3 to 2-3 on Thursday evening.
They conceded two early goals in the first half and were chasing the game from there on.
The opposition set up with a sweeper which proved difficult to break down.
In the second half the girls fought back bravely but it was not to be their night.
Well done to all 24 girls involved who at the end were very disappointed but there will be better days ahead. Thanks to manager Dave and his management team and to all the parents for their support.
CONDOLENCES
Everyone in Glynn Barntown GAA, Coiste, Camogie and Ladies Football Clubs extends their deepest sympathies to the Whelan family, Barntown on the sad passing of their mother and grandmother Mary. Ar dheis Dé go raibh a hanam dílis.
ALL IRELAND CHAMPIONS
A massive well done from all in our GAA, Camogie & Ladies Football clubs to Glynn Barntown Rounders Team on winning their 2nd All Ireland title in a row last Sunday!