***COUNTYWIDE DEVELOPMENT DRAW***
UPDATE* DECEMBER 2018
Ticket sales for our club development draw are going really well around the county and we are delighted to be reaching our projected figures – the momentum and dedication from our many volunteers has been exceptional and we thank them all for contributing to building an exciting future for Glynn Barntown!
Phase 1 is now complete and we take a well deserved break for the festive season. Phase 2 will begin in early January.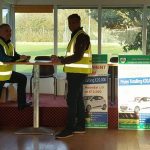 Our goal in the area of facilities and development in our strategic plan 2018-2020 is "Our players and members utilise and enjoy an enhanced range of excellent facilities that meet the needs of all Club members and serve the wider community". Key elements of this plan are to install state of the art drainage and erect cutting edge energy efficient floodlights on the adult pitch nearest the road creating a safe all year round training and playing surface for our players. Increasingly the GAA season extends into Autumn/Winter and floodlighting is essential for team preparation when the evenings close in.
The draw will be for a first prize of a car (or cash alternative) with additional excellent prizes. Tickets will be sold for €20 or 3 for €50 door to door county wide. To achieve our target of tickets sales we need to make best use of the window we have been allowed by Wexford GAA County Board. To make best use of this draw we need as many people involved in the club as possible.
Ticket sales will be co-ordinated from a hub located in the clubhouse. We would hope that club people will make themselves available to give at one evening a week during the period either on the road or helping in the hub. We have been amazed by the amount of volunteers who have already come forward but we are still recruiting.
Club members and friends are asked to support this draw with their time and effort. Club lotto will be sold as usual late in the year to assist with day to day running expenses of the club. The club will also look to sell the county wide draw tickets in our own parish early in 2019.
Anyone interested in being part of this project please contact John on 0872807679 or Danny 0861089553. Please make the effort and help make a difference.